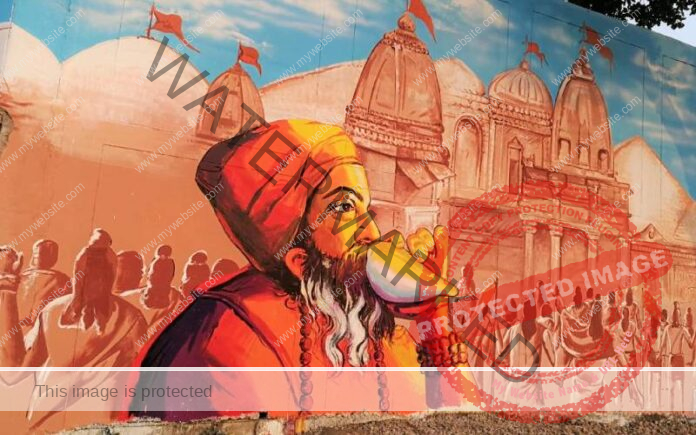 April 11, 2023: Preparations for Mahakumbh – 2025 slated to be held in Prayagraj by the Uttar Pradesh government are in full swing. Officials of Prayagraj Mela Authority are continuously holding meetings regarding the organization of Maha Kumbh and are initiating action for the timely execution of the plan on ground. Recently work on the 'Paint My City' campaign has also started.
Site marking work begins for 'Paint My City' campaign
The Yogi government, engaged in making the Mahakumbh 2025 a memorable affair by involving elements of divinity, culture and tradition in sync is leaving no stone unturned to give a pulse of religion and spirituality to devotees expected to arrive in the forthcoming mega religious fair. The blueprint of the mega exercise has already been prepared in the meetings organized for the preparations of Kumbh at the Prayagraj Mela Authority office.
According to Prayagraj Commissioner Vijay Vishwas Pant, like Kumbh 2019, in the upcoming Maha Kumbh 2025 also, under the 'Paint My City' campaign, various places of the city would be decorated on the theme of Kumbh. For the task, departments concerned have been instructed to conduct a survey to identify new places.
Nodal officers to prepare action plan with work completion time line in 15 days
At the meeting of the Prayagraj Mela Authority held at Integrated Command and Control Center (ICCC) Mela officer Vijay Kiran Anand has asked all nodal officers of the departments concerned to send the action plan carrying the time line of completion of their respective works within 15 days for the timely implementation of all works pertaining to organizing of Kumbh.
He further directed that before this campaign, a progress report should be submitted within 15 days on the action plan for improving condition of main and link roads of the city besides beautification of road dividers. These beautiful paintings made on the walls of the government buildings built on the side of the city roads should give a feel of the grandeur and culture of Kumbh. For the first time, selfie points would also be made near these wall paintings.
Rs 28 crore allocated for 'Paint My City' campaign for Prayagraj Kumbh 2019
Paint My City campaign is the concept of Yogi government. It was first conceptualized to give a feel of the grandeur of Kumbh Mela organized on the banks of Sangam in Prayagraj in January 2019. For this, the government had allocated a budget of Rs 28 crore. At that time, more than 500 city artists made paintings carrying messages of religion, culture and tradition in an area of 20 lakh square feet of the city walls in a period of around 90 days.
The scenes from the story of 'Samudra Manthan', 'Rama Vanagaman', knowledge of Gita by Shri Krishna in Kurukshetra, the tradition of 'akhadas' and the mythological monasteries of the city were painted on city it. In Haridwar Kumbh also, the Uttarakhand government carried out the same in city of Haridwar.