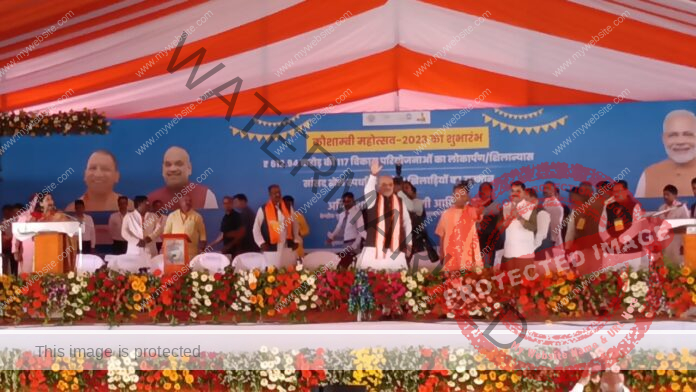 April 08, 2023: Union Home minister Amit Shah lashed out at Congress leader Rahul Gandhi, here Friday. Shah said it was for the first time in history after independence that the budget session of Parliament ended without discussion. The opposition did not allow the budget session to go on for Rahul Gandhi. Rahul insulted India by going abroad. The people of the country see and understand it well. The Union Home minister said that the Surat court disqualified Rahul Gandhi and canceled his membership of Parliament. For this reason the Parliament was not allowed to function. He further questioned, who brought this law ? The Supreme Court made this law by giving a decision. At that time Manmohan Singh wanted to reform this law to save Lalu Prasad Yadav but Rahul Gandhi stopped him. So far 17 MPs have lost their membership and same way Rahul Gandhi also lost it. On this, the Congressmen closed the entire Parliament wearing black clothes.
Union Home Minister Shah said that it was the religion of every citizen to follow the law. Rahul was an MP. Would have challenged this decision, but they sacrificed the important time of Parliament. Referring to Ram Mandir, Shah said Congress, SP, BSP were creating hurdles. Now Lord Ram will sit in the temple of Ayodhya, he added.
Shah was speaking at the three-day Kaushambi festival, which was jointly inaugurated by UP Chief Minister Yogi Adityanath and Union Home Minister Amit Shah, here Friday.
116 projects worth Rs 612.94 crore gifted to the public
A total of 116 projects worth Rs 612.94 crore were dedicated to the people of Kaushambi by laying the foundation stone and pressing the button by UP Chief Minister Yogi Adityanath and Union Home Minister Amit Shah.
Schemes launched during Kaushambi Mahotsav
In Kaushambi today, CM Yogi Adityanath and Union Home Minister Amit Shah jointly inaugurated projects worth Rs 456.22 crores including Government ITI Chail building worth Rs 11.57 crores, residential building in Sirathu tehsil worth Rs 5.52 crores, Nagar Palika Parishad Manjhanpur Office Building costing Rs 4.99 crores besides administrative building of Manjhanpur police station costing costing Rs 6.77 crores.
Apart from this Girls Hostel, Kada – Rs 1.77 Crore, Polytechnic of Information Technology Male Hostel Building – Rs 1.75 Crore, Construction of Viewers Gallery on roof of Dormitory in Sports Stadium – Rs 2.29 Crore, District Military Office and Rehabilitation Office Manjhanpur Building – Rs 2.33 Crore, Construction of Chief Medical Officer office building – Rs 2.44 crore, construction of mini stadium Tilgodi Chail – Rs 4.30 crore, construction of Kasturba Gandhi Hostelm Myohar – Rs 1.77 crore, Girls Hostel Government Inter College, Sirathu – Rs 1.70, widening of road to Tedhimod Shahzadpur Ganga Ghat – Rs 3.66 crore, Widening of road from Dhumai to Medipur – Rs 2.94 crore, Saini Canal road from Sayaran ROB to GT Road – Rs 5.70 crore, Widening of remaining part of Sirathu-Kalakankar road – Rs 7.53 crore, Samada Widening from crossing to Samda petrol pump via Bichhura- Rs 5.95 crore, widening of Samda crossing to Bambupur road- Rs 15.84 crore, widening and repair of Medua-Salempur road- Rs 6.05 crore, Bhagwanpur Bahungra road- Rs 8.97 crore, Mustafabad to Banthari road- Rs 6.21 Crore, Kasenda Uparhar to Bhopatpur road – Rs 7.71 crore and Asadha to Baiskati Marg – Rs 6.21 crores.
Foundation stone of different projects was laid
After the commencement of Kaushambi festival, foundation stones of projects worth Rs 156.72 crore were also laid. This include Khuja-Afzalpurwari to Bambupur via Udhin Buzurg Sampark Marg – Rs 12.9 crore, Saini Canal Road to Alipur Jeeta Sampark Marg – Rs 11.7 crore, Manauri Saraiyakil km 19 to Koriya Sampark Marg – Rs 10.6 crore Hoda Canal Service Road Sampark Marg – Rs 13 crore, from Hardua Danialpur link road – Rs 10.4 crore, GT Road-Husenmai link road – Rs 8.40 crore, Mahila Road to Diya Uparhar link road – Rs 7.90 crore, Kaneli-Bhakhanda Uparhar link road – Rs 7.48 crore, Syotha link road – Rs 8.40 crore and Chak Pinha road – Rs 7.81 crore.
A playground and a mini stadium will be built in every block of state
Addressing the public meeting in the program, Chief Minister Yogi Adityanath said that Kaushambi was one of the 16 districts during the Buddhist period. It was here that Shri Ram spent a night while going to the forest.
Apart from Shakti Peeth Kada Dham, almost all were familiar with the place of Sheetla Mata, he said.
Encouraging the winners by awarding them medals and certificates in the MP sports competition, he said the double engine government had decided that there would be a playground in every village of the state, a mini stadium in every block and a stadium in district. The Chief Minister further said preparations for Maha Kumbh 2025 to be held in Prayagraj had already started, and all the neighboring districts of the Commissionerate should be mentally prepared and join them in making preparations for the mega event.
Players of MP sports competition honored
Emerging players of the district were also honored on the stage of Kaushambi Mahotsav. Home Minister Amit Shah and Chief Minister Yogi Adityanath felicitated 10 boys and girls associated with Khokho, volleyball, 100 meter race and other sports by calling them on stage by handing over trophies and citations to the best performing players during the MP Sports Competition.
Apart from Union Home and Cooperative Minister Amit Shah and Chief Minister Yogi Adityanath, Deputy CMs Keshav Prasad Maurya and Brijesh Pathak and BJP State President Bhupendra Chaudhary, Kaushambi Vikas Parishad President MP Vinod Sonkar, Cabinet Minister Nand Gopal Gupta Nandi, State General Secretary (Organization) Dharampal Singh and Minister of State for Prisons of Yogi Government Suresh Rahi were present.