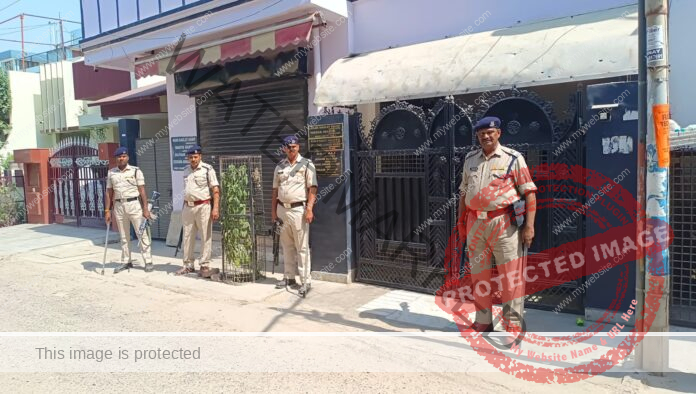 April 12, 2023: After carrying out searches on Atiq Ahmed's house and office besides residence and hideouts of his family members and relatives, now the Central agency has turned on its scanner on staff and people associated with the mafia-turned-politician.
In one such case, Enforcement Directorate (ED) sleuths descended on the house of dreaded gangster's lawyer and accountant on Wednesday morning in Prayagraj.
As per reports, ED personnel arrived at the house of Khan Saulat Hanif in Preetam Nagar locality of the city under Dhoomanganj police station on Wednesday around 9am. Unaware of the happenings area residents came out of their houses on seeing heavy deployment of CRPF personnel outside the lawyer's house. Khan Saulat Hanif is presently lodged in Naini Central Jail after being convicted along with Atiq Ahmed and one another in the Umesh Pal kidnapping case by MP/MLA court on March 28, 2023.
In the ongoing crackdown, Central investigative agency also carried out raid at the house of Atiq's accountant Sitaram Shukla's in Khuldabad area of the city.
The teams also carried out raids at different places in city including residence and office of a builder in Civil Lines area besides in Kareli and Jhalwa locality. The ED team was accompanied by CRPF personnel.
Sources revealed that recovery of huge amount of cash from the builder's premises besides the accountant along with important documents and files were also made by ED team.
Sources further revealed that the ED teams were also collecting information about finacers of the Atiq gang and people who were involved in partnership in carrying out business with the mafia-turned-politician and turning his black monery into white money. During the raids crucial documents testifying several properties owned by Atiq's wife Shaista Parveen were recovered while documents showed Atiq's elder son Umar holding importatnt post in several 'Benami' companies. The ED team also visited Prayagraj Devleopment Authority (PDA) office in Indira Bhawan and sought information about ownership of different private housing projects, suspecting investment of Atiq's illgotten wealth in these private housing projects. Sources in PDA revealed, ED sleuths enquired about upcoming private housing projects in Jhunsi, Bamrauli, Jhalwa, Naini, Tagore Town and Civil Lines.
The ED teams reached Prayagraj from Lucknow late on Tuesday night.