Prayagraj, March 25, 2023: "We may be free geographically, constitutionally and culturally but even today we are not free on the basis of language," said Justice Dr. Gautam Chowdhary, of Allahabad High Court after inaugurating the Prayag Mahotsav-2023 as chief guest at Dr APJ Abdul Kalam Auditorium, Vigyan Parishad, Prayagraj on Saturday.
Taking his point further, he has said that he was not opposed to English or any other language, but Hindi was his mother and English or Urdu language could be considered as aunt, but not as mother. 'My mother tongue can only be Hindi language,' he added. Justice Dr Gautam Chowdhary is known for delivering judgments in Hindi in Allahabad High Court. He gave his first judgement in Hindi on December 20, 2019 after which he delivered more than 9000 decisions in Hindi. His judgement in Hindi in the Dr Kafeel case is still considered an example.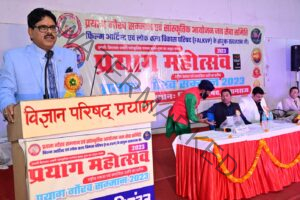 In the 16th edition of Prayag Gaurav Samman ceremony organized as part of Prayag Mahotsav 2023, under the joint aegis of Prayag Gaurav Samman evam Sanskritik Ayojan Jan Sewa Samiti, Film Artist and Lok Kala Vikas Parishad and Uttar Pradesh Cinema Television Kaamgaar Union here on Saturday, 18 personalities were felicitated for their exemplary contribution in different fields including education, administration, social service, railway administration, medicine, engineering, journalism, literature, sports and music.
Chairman of Prayag Gaurav Samman and Jan Seva Samiti, Nazim Ansari informed that recipients of the award had been selected by a 5-member committee presided over by Dr Govind Kumar Saxena.
The award in the field of education was given to Professor Krishna Gupta of Patanjali group of institutions while Professor Shabnam Hameed, Head, Department of Urdu, Allahabad University and Dr Neeta Sahu of SS Khanna Degree Girls College, were felicitated for their significant contribution in the field of Urdu education. Similarly, in the field of journalism Shivendra Kumar Singh, Sports Editor of TV 9 Bharat Varsh Digital received the award while Narayan Yadav and Vijay Kumar Gupta received the award from Social Service.
Likewise, IPS officer Jugal Kishore and Ashok Kumar Verma was felicitated in the field Administrative Service, Chief Engineer, Central Organization for Railway Electrification (CORE), Prayagraj Sanjay Singh Negi was felicitated for Railway Administration, Dr Bhavna Singh, Head, Department of Dental Science, Motilal Nehru Medical College Prayagraj for Medical Service, Chief Engineer Vinod Gangawar, Uttar Pradesh Power Corporation Limited, Prayagraj in the field of engineering besides Dr Sailesh Gautam, Abhishek Verma and Dr KD Singh, Divisional Transport Officer Ghaziabad were honoured for their contribution in the field of poetry and Literature. Santosh Kumar Tripathi was felicitated in the field of Legal Justice, Bhajan singer Ashutosh Srivastava in the field of music and Ashok Kumar Pathak, Managing Director, National Construction Pvt Ltd, a Bridge and Railway Bridge Construction Company, who is also national president, Indian Railway Infrastructure Providers Association has been felicitated in the field of business. Vivek Srivastava, National Trainer, Taekwondo received the award for his contribution in sports. The program was conducted by Sudhir Sinha and Aparajita Sen.