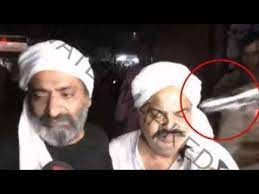 April 19, 2023: After the elimination of gangster Atiq Ahmed and his brother Khalid Azim alias Ashraf, a former legislator, who had created an empire of fear and terror in Prayagraj and surrounding districts, victims of the dreaded gangster have now started to speak up about their sufferings at the hands of Atiq and his gang over the years. The IS 227 gang led by the former Member of Parliament was involved majorly in extortion, land grabbing, etc besides the off-late confession of Ahmed himself to police of having links with Pakistani intelligence agency ISI and terror outfit Lashkar-e-Taiba.
Over two dozen victims have come forward, post death of the mafia narrating their tale of woes.
Police prepares list of 20 victims of Atiq gang
The pain of families suffering from the tyranny of the mafia has started coming to fore. From the family of Surajkali of Jhalwa who struggled tooth-and-nail after her land was grabbed by Atiq in connivance with lekhpal several years ago to Jagga family of Mumbai, the tale of woes of victims in the list of 20 prominent people released by the Police department, who suffered at the hands of Atiq and his gang, speak volumes of brutality afflicted by the latter on common man.
Be it property dealer Zeeshan, family members of Ashfaq Kunnu killed in 1994, Ashok Sahu killed in 1995, Corporator Nassan's family killed in 2001, BJP leaders Ashraf, Maqsood killed in 2003, victim of Deoria Jail incident Mohammed Zaid besides Lucknow's businessman Mohit Jaiswal and Arshad, Lucknow's businessman Sushil, Jagga's family who was killed after being tied to a tree in a cemetery after returning from Mumbai, Zabir and Abid Pradhan, victims of Alkama murder case, Corporator Sushil Yadav, Corporator Saud, Security Incharge Ramkrishna Singh and Shabir alias Sheru along with Umesh Pal's wife Jayapal's name is included in the list.
Victim – Surajkali Kushwaha
A resident of Prayagraj in Uttar Pradesh, Surajkali Kushwaha is one of the several victims of Atiq's misdoings. In 1989, her husband disappeared suddenly, never to return while she received threats of facing a similar fate if she refused to part with her '12 bigha' land, which was usurped by the dreaded gangster through forged documents made allegedly in connivance of a lekhpal. Surajkali's land was allegedly sold to around 150 people as part of a housing project. Despite the struggle and life threats, Surajkali could not get justice and the case was closed around 2002. However, now after the death of Atiq, she is hopeful that her three-decade-long struggle against Atiq's terror would bear fruit and the Yogi government would help her get back her land occupied by the mafia.
Victim – Jagga family of Mumbai
Similarly, the Jagga family of Mumbai was assaulted by Atiq and his gang members by hanging them upside down on a tree in the same graveyard where Atiq and Ashraf are buried. Now, after the end of the reign of terror, members of the Jagga family are confident of getting justice.
Victim – Lucknow based hotelier Sushil
Likewise, Lucknow based hotelier Sushil's land worth several crores was forcibly grabbed by Atiq and his associates and implicated him in a fake case. But now after Atiq's death, Sushil's hopes have risen to receive justice.
Muslim families were worst sufferers
Atiq, if police records were to be analysed was a criminal in the first place who never had sympathy for anyone be it a helpless woman or members of his own community. This fact is evitable in the released list of victims persecuted by Atiq.
There are 13 Muslim families out of 20 in this list of major victims who were oppressed by Atiq and his brother Ashraf. Among them, are two minor Muslim girls who were abducted from the madarsa and raped in 2007. However, now with the end of reign of terror, hopes of these oppressed Muslim families have revived for getting justice.