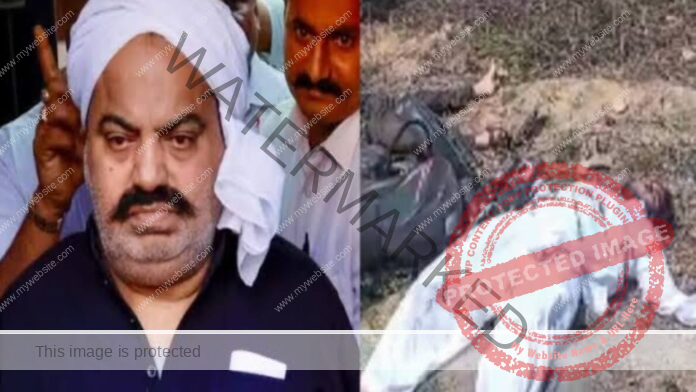 April 14, 2023: The terror rule of mafia Atiq Ahmed, which took almost 44 years to attain its present status, wielding clout not only in UP but in different states was decimated by the firm resolve of Uttar Pradesh chief minister Yogi Adityanath in a apan of mere 48 days. The Yogi government, which left nothing to chance, began firing on all engines after the day light murder of Umesh Pal in Dhoomanganj locality of Prayagraj on February 24. The CM had made his intentions clear in no uncertain terms during the UP assembly, which spelled nemesis for the mafia-turned-politician's illegal empire. Government agencies like Enforcement Directorate, Special Task Force, Anti Terror Squad, etc have been pressed in to unwind the web of crime and politics that the mafia succeeded in setting up over the past four decades.
Crime journey of the mafia commenced in 1979
The first criminal case against Atiq Ahmed was registered in 1979 at Khuldabad police station in Prayagraj. Since then, in his journey of 44 years in the world of crime earned him 102 cases were, but none of the successive government which came to power in past over four decades in state could muster enough courage to nail him down. On the contrary to get political cover for his criminal acts, the one-time petty criminal started dreaming big and won assembly polls for the first time as an independent candidate in 1989 from City West assembly constituency. From here he never looked back and continued with his winning streak for next four consecutive assembly polls, in 1991 and 1993, as an independent candidate while in 1996 he won on Samajwadi Party ticket and in 2002 on Apna Dal ticket. Further, with his growing clout and ambition, the matriculate pass Atiq Ahmed in his maiden attempt contested and won Lok Sabha elections from the prestigious Phulpur seat on SP ticket in 2004.
However, bringing his illegal empire to books only became possible for the first time in Yogi Adityanath government when the MP/MLA court sentenced Atiq to life imprisonment in Umesh Pal kidnapping case along with two others last month.
Umesh Pal murder spelled nemesis for the mastermind of Interstate Gang 227 and his family. The first of his family to be killed was his third son Asad. On receiving the news of his son having been shot dead in police encounter, a visibly moved Atiq kept on murmuring 'This all happened just because of me'.
ED attacks Mafia Atiq Ahmed's business ventures, link leads to white collared businessmen
While on one hand the Yogi government was making all out efforts to put an end to mafia rule in state, on the other hand, the investigation agencies related to economic crimes are leaving no stone unturned to unravel the mystery behind funding of the interstate gang and growing wealth of the mafia. In all 15 teams of Enforcement Directorate are investigating money laundering cases registered against Atiq Ahmed and raided over a dozen places of Atiq's close associates in Prayagraj on Thursday.
It may be mentioned that a case was registered against Atiq Ahmed couple of years ago in 2021 under the Prevention of Money Laundering Act and his property worth Rs 8 crores was confiscated in this case.
During ED raids it was revealed that Atiq used to operate his illegal businesses through dummy companies, Enforcement Directorate found crucial evidence in the money laundering case in Prayagraj city. Documents recovered during ED's raid proceedings revealed over 50 such shell companies which are dummy companies which were owned by someone else in records, but the investment was done by Atiq.
Through such companies Atiq used to convert his black money into white. Some of these companies include MJ Infra Green Pvt Ltd, M/s Jafri State Ltd, Fanaa Associated Pvt Ltd, MJ Infra Housing Pvt Ltd, F&A Associate Pvt Ltd, Asad City, MJ Infra State Pvt Ltd and MJ Infra Land, LLP. Against most of these companies, the district police had already sent a letter to state government requesting investigation by the Enforcement Directorate.