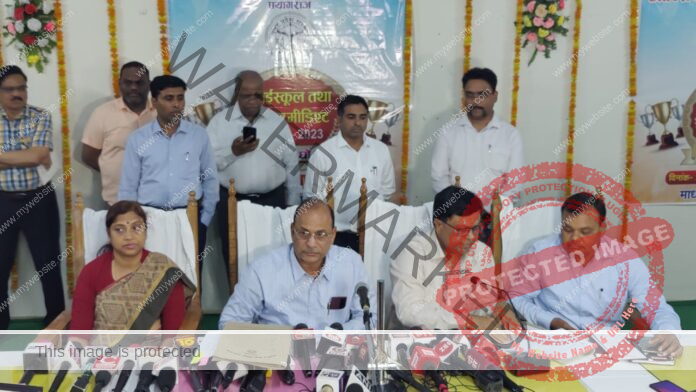 April 25, 2023: The Board of Secondary Education, Uttar Pradesh also known as UP Board declared its 2023 High School and Intermediate at Board's headquarters in Prayagraj on Tuesday afternoon. Owing to following of guidelines issued by Yogi government, many records of sorts have also been made in the 2023 UP board exams.
In high school, Priyanshi Soni, a student of Sita Bal Vidya Mandir, Mahmumabad, Sitapur, secured top spot in High School merit list by securing 590 marks out of 600. Similarly, Shubh Chapra, a student of Saraswati Vidya Mandir Inter College, Charkhari, Mahoba district, secured the top position by securing 489 marks out of 500 in class 12th examination of the Board.
Records revealed, a total of 58,50,745 candidates appeared in the board exams this year, of which 31,16,487 appeared in high school and 27,69,258 in intermediate examinations. Among the successful candidates in High School, girls secured a pass percentage of 93.44 percent while 86.64 percent was the pass percentage registered by boys.
Similarly, in the Intermediate examination of the Board out of the 25,71,002 examinees who took the examination, 19,41,717 candidates were declared successful, including 9,65,658 girls (83 percent) and 9,76,059 boys (69.34 percent) respectively.
After 30 years, record for holding cheating free examination made
In accordance to instructions of Chief Minister Yogi Adityanath for holding copying free examinations, Chairman of UP Board Dr Mahendra Dev informed in the press conference held at Board headquarter that for the first time no disturbance or irregularity had come to fore in opening of question paper at any centre in state.
For the first time question papers were kept in a 4 layer sealed envelope, due to which the problem of paper leakage was done away with. Also after a span of nearly three4 decades in the history of UP Board, no case of paper leak or mass copying was reported from any part of the state.
To prevent question paper leak as reported in previous years in state, senior officers kept making surprise checking of strong room where question papers were kept till late in the night.
4.31 lakh examinees skip exam, 133 solvers sent to jail
Owing to the strictness adopted by UP government in the 2023 High School and Intermediate examinations, out of the total 58,85,745 registered students, a significant 4,31,571 students left the examinations. Also due to zero tolerance policy of state government towards copying mafia, a significant 133 solvers were caught and sent to jail.
Evaluation of answer sheets done ahead of schedule
UP Board has also created another history in the evaluation of answer sheets of board exams. UP Board Chairman Dr Mahendra Dev informed that this time evaluation of answer sheets of UP Board started from March 18 at 258 centers wherein a total of 3.19 crore answer books were evaluated by 1,43,933 examiners.
The date for completion of evaluation of High School and Intermediate examination answer sheets was fixed as April 1 but the board completed the evaluation a day earlier i.e. on March 31, 2023 which itself has been a never before achieved achievement.
For the first time in 100 years, the result was declared so soon
Another record of sorts was created by the Board as it declared its High School and Intermediate examinations results in a record time, done never before in history. According to chairman of the board, Dr Mahendra Dev, for the first time, audio-video training was conducted for deputy controllers at regional office level which enabled the evaluation of answer sheets without any mistake. After the evaluation of the answer sheets, the board had its own estimate that it would declare the results at the end of April month. In the last 12 years, the UP Board's 10th and 12th result was declared the earliest on April 27, 2019.
But this time the result of the board was declared on April 25 itself, which is claimed to be the earliest date of declaration of results in Board's history of 100 years. It may also be mentioned that the UP board exam started one day after the CBSE from February 16 onwards but UP board declared its results before CBSE could do so, despite the fact that the UP Board has many times more examinee count as compared to CBSE.