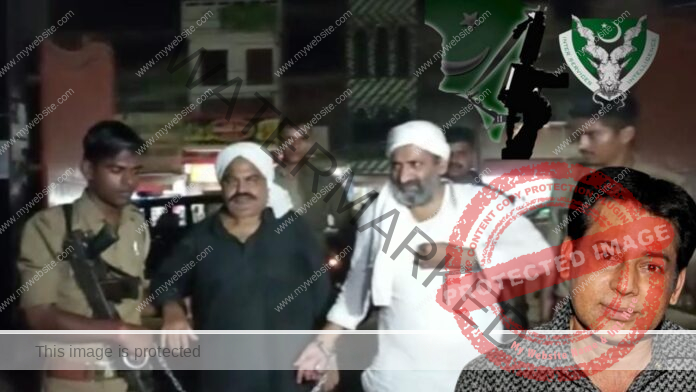 April 14, 2023: The Umesh Pal murder has opened a Pandora's box for the due mafia brothers, not only exposing their connect with white-collared businessmen, benami properties worth in several hundred crores, over 200 bank accounts but also their nefarious network with terror outfits and Pakistani Intelligence Service (ISI). Moreover their connection with underworld don Abu Salem has also shocked the UP Police as well as the Mumbai ATS. Reports revealed, after the Umesh Pal murder case, mafia don Atiq Ahmed and his brother Ashraf did everything possible to save Asad and shooter Ghulam. Abu Salem through his network, revealed reports, had managed a hideout for Atiq's son Asad and shooter Ghulam in Pune but fate had something else in store.
ATS begins probe post revelation of Abu Salem connect
Mastermind of Interstate Gang 227 and notorious mafia-turned-politician Atiq Ahmed also has links with Pakistan intelligence agency ISI and terrorist organization Lashkar-e-Taiba (LeT) besides underworld don Abu Salem. This claim has been made by Dhoomanganj police engaged in the investigation of Umesh Pal murder case. Police claimed Atiq himself made this disclosure in his statement to the police on April 12, 2023. Atiq, as per police, also allegedly accepted the fact that he had conspired for the Umesh Pal murder in Sabarmati Jail. The remand copy was presented in court in which these shocking revelations had been made by the mafia.
Further, police claimed, when Atiq's wife Shaista had met him in jail, he had explained the whole plan of killing Umesh Pal to her and also instructed to ensure that post murder the weapons used in it should be kept at a safe place. Atiq, as per reports, had also assured her that there was no dearth of weapons and that he had links with Pakistani intelligence agency ISI and terror outfit Lashkar-e-Taiba (LeT).
Weapons dropped on Punjab border through drones from Pakistan
As per statement given to police, the dreaded gangster had confessed that weapons were dropped on the border of Punjab through drones from Pakistan which were collected by a local who was known to him. The consignment of these weapons, reports revealed, was also supplied to terrorists in Jammu and Kashmir. Atiq claimed that he could further tell about the people who supplied drone-dropped weapons in Punjab only when he reached there. The police also claimed that some of these places are known to Atiq and Ashraf.
Conspiracy hatched on Facetime, Internet and WhatsApp calling
The police also claimed that Atiq, in his statement, had confessed that he had instructed his wife Shaista not to use voice calls. He had said that while in jail, he and Ashraf used to talk through Facetime, Internet and WhatsApp calling and conspiracy of Umesh Pal murder was hatched through this medium as calls made through these apps were are not caught by surveillance gadgets. He had also instructed his wife to purchase new mobile phones and SIM cards and send it to him as-well-as Ashraf through their men in jail.
Atiq, Ashraf claim to get money and arms recovered on arriving at location
As per the charge sheet, Atiq Ahmed also agreed that if he was taken to those locations, he could get the money, arms and cartridges recovered. Ashraf also said that he will not be able to tell the place where the arms and cartridges were kept while sitting inside the jail. Ashraf claimed that he had knowledge of some places while his elder brother Ateeq had information about some places which looked like farm houses built in the fields.